The data is in: the Treasure Valley housing market is buyer centric showing continuing signs of strength. While several data points show strong indications of a good market, some month-over-month slowing in sales has occurred. This information is based on a recent monthly real estate sales report capturing the December sales data comparative to November 2018.
In Ada County, the median home price continues to increase month over month, edging up another 1.3% to a whopping $317,372 median home price. As a professional in the rent industry, this increasing home price makes it progressively cost prohibitive for first time home buyers to get into the market. Many tenants, who would like to get out of a rental property, are unable to due to the cost of purchasing a home. In most cases renters are dependent upon a strong dual income household in order to qualify for a home purchase. Consequently, tenants continue to wait out the market to see if there is any softening.
On the investor side of the equation, this market presents an opportune time to liquidate equity and take advantage of high home prices. In our property management portfolio alone we have experienced as much as 10% of our single family properties selling off due to favorable market conditions. I was anticipating this number to be much high, however, many investors remain in their investment properties because they do not know where to put their money after they sell. The favorable market, prices them out of purchasing another rental property at a good price. In this case, a Sell High, Buy High strategy does not make sense either. In the end, it has only been those investors who are ready to retire from active real estate investments, who have taken this opportunity to bow out of the market.
Further data in the report which was sent out by The Mike Brown Group, shows that home sales in December dropped by 16% to 766 homes. Much of this can be attributed to the seasonality of the market which will make it more critical to watch these numbers in the ensuing months. While the overall number of homes has decreased, the available inventory remains very low at 2.18 months. This is to say that the existing home inventory would take roughly 2 months to sell off. A "normal market inventory would come in at around 5-7 months by comparison. There is still more buyers than available homes in Ada County.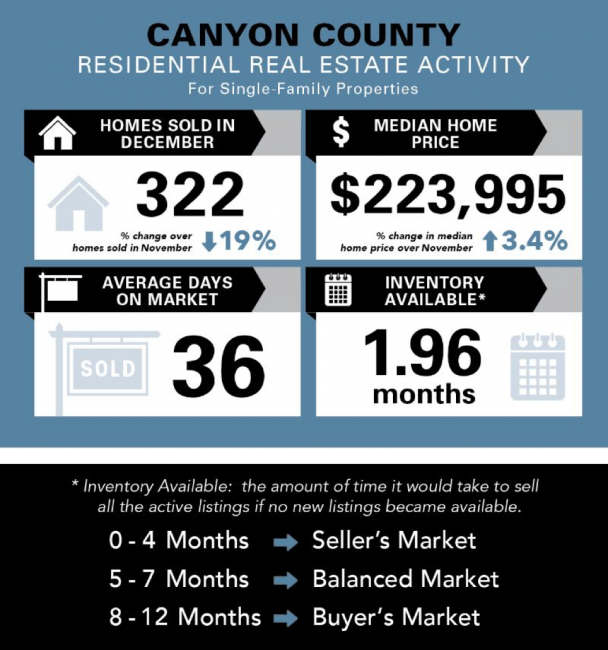 In Canyon County the situation is slightly different. Median home prices in the west end of the valley are tracking at $223,995, over $90,000 less than the median price in Ada County. This price, however shows more than double the price growth with a 3.4% increase. So while the Canyon County median home price is lower, it is increasing a faster rate than that of Ada County. On the tenant side of the equation, we have seen a disproportionate number of tenants moving to the Nampa/Caldwell areas as a result of these prices.
Part of this steady month-over-month price increase is due to the lack of inventory. Canyon County comes in at 1.96 months as compared to 2.18 months for Ada County. The lack of available homes is in part contributing to the decreasing monthly sales numbers. December shows a decline in total home sales by 19%. Only 322 homes sold in Canyon County as compared to 766 homes in Ada County.
With all of this information the key takeaway is that the Treasure Valley remains a seller's market which increases the temptation for investors to sell out. Still, investors are cautious as they are trying to ascertain what investment vehicles they can use for their liquidated asset. It will be important to follow the market closely in the coming months as property investors carefully weigh options. – Cory Tanner, President of Beech Tree Property Management