John Tanner was born in Hopkinton, Rhode Island and remained there for most of his early childhood. In the spring of 1818 he moved with his family to a small hamlet in upstate New York called Bolton. There he began to settle and to build. Over the following years, his holdings increased to include over 2,200 acres of timber land, an island on Lake George, several lumber mills, orchards, a hotel, a dairy and several other profitable operations.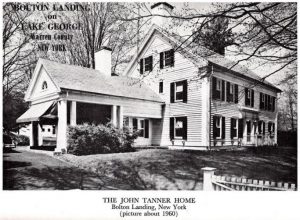 John Tanner was a hard-working, ambitious man: honest and grateful. He was also well respected in the community and generous towards others. The poor and needy always found a friend in him; he would give them employment whereby they could earn what they needed, but would supply their needs regardless.
Today John Tanner's vast holdings would be worth well over $250 million, however, his greatest legacy was not the strength of his financial portfolio, but the strength of his character. In the years since his death, generations know John by what he stood for. He stood for Industry: he rolled up his sleeves and went to work, and he was not afraid to work hard and he was tireless in his pursuit of excellence. He stood for Innovation: he developed new businesses and enterprises from raw resources. But most importantly, John Tanner stood for Integrity: he was true to himself and to his core values. In fact, at the peak of his prosperity, John gave up all of his wealth for a cause in which he so strongly and deeply believed: such was the character of John Tanner.
Now, almost 200 years later, The Bolton Company has been built on these same foundational principles of Industry, Integrity and Innovation. Cory Tanner, Founder and President, is John Tanner's fourth great-grandson and works passionately to ensure that this company remains true to the traditions of his forefather.
Beech Tree Property Management is the first subsidiary of The Bolton Company and has remained a center point of many of the company's current operations and future expansion plans. We have grown from serving a handful of owner-investors to serving dozens of residential and commercial property investors. While our clients live in various locations across the globe, they each have real estate investments in the Treasure Valley. What keeps us strong in serving this diverse clientele is that we keep at the center of our business the core values exemplified by John Tanner so many years ago; Industry, Integrity and Innovation.